Applying for financial aid just got a little bit harder for families looking to get a bit of help sending someone to college next fall. As of yesterday, the U.S. Department of Education and IRS jointly announced the suspension of a data retrieval tool that, among other things, makes it a lot easier for families to fill out the FAFSA (a standard financial aid form used by colleges to award financial aid to students).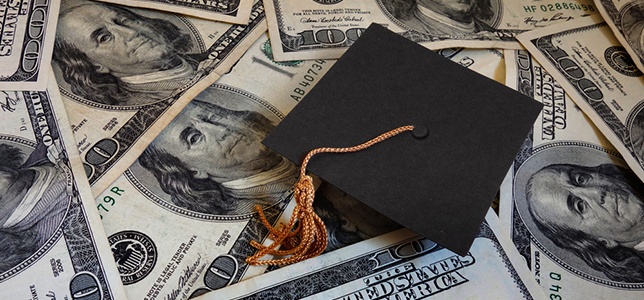 The release follows complaints earlier this week that the tool had suddenly disappeared without explanation.  After a bit of questioning, both the IRS and Education department confirmed that the service would be "unavailable for several weeks."
What went wrong?
According to the release, the IRS's data-retrieval tool could be vulnerable to broader problems — like being a tool for identity theft.
"As part of a wider, ongoing effort at the IRS to protect the security of data," they said, the IRS decided to "temporarily suspend" the data-retrieval tool "as a precautionary step following concerns that information from the tool could potentially be misused by identity thieves."
That doesn't mean families can not apply for aid — it just means it is a longer slog of a process for those filling out what is formally designated as the Free Application for Federal Student Aid, or applying for an income-driven plan to repay their student loans.
For example, the Department of Education suggests that families could "manually provide the requested financial information from copies of their tax returns."
Because nothing will make jumpy high school seniors and their parents happier than suddenly switching to manual as filing deadlines are getting closer and closer.
Carrie Warick, director of policy and advocacy at the National College Access Network, cited some of those concerns in a post on the group's website.
"Students who had previously been told to use the DRT [data-retrieval tool] and were relying on it to facilitate their FAFSA completion will now encounter a new wrinkle in the 11th hour that may prevent many from filing on time and gaining access to valuable financial aid," she wrote. "This concern is especially acute for returning students who used the DRT in past years and may wait until closer to the deadline to file."
Ms. Warick also noted that obtaining copies of their tax returns has proven problematic for some applicants and that this would probably lead to further complications, especially for low-income families.
There is no specific timeline for the DRT being fixed — though the IRS and Dept. of Ed say they are woking actively on the problem and that progress is being made.
"The scope of the issue is being explored, and the IRS and FSA are jointly investigating the issue. At this point, we believe the issue is relatively isolated, and no additional action is needed by taxpayers or people using these applications."




If You Found The Information Here Was Useful Please Consider Sharing This Page!