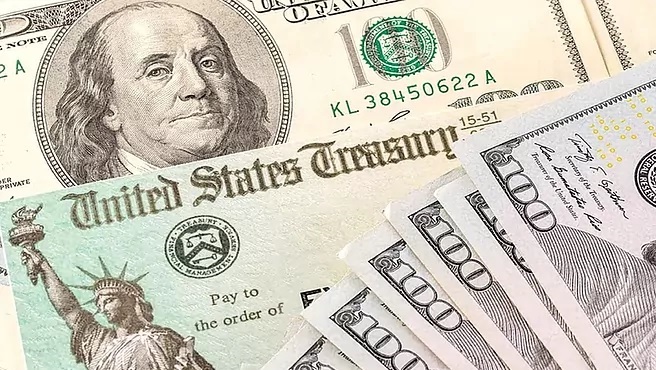 The Internal Revenue Service (IRS) is currently focusing on a stimulus check backlog which includes the Plus-Up Payments that many Americans are entitled to. There are some American citizens who are set to receive a payment of up to $1,400 before the end of 2021 and the start of 2022 as part of a surprise plus-up stimulus check. These checks will be sent before the new year, but you must have registered in time in order to receive the money.
The plus-up payments are additional stimulus checks that are sent out to people who were sent a stimulus check based on their 2019 tax return or information that was on the Social Security Administration's system.
There has been a third payment automatically sent out by the IRS to people who did not hand in a tax return but received Social Security retirement, survivor or disability benefits, Railroad Retirement benefits, Supplemental Security Income, or Veterans Affairs benefits.
What are Plus-Up Payments?
In response to the coronavirus pandemic, Donald Trump and then Joe Biden's administrations sent out stimulus checks to low-income and medium-income families. Three checks were sent out in total and it doesn't seem like a fourth will be coming from the federal government, but there are Plus-Up Payments that are designed to get people caught up on the stimulus money they are due but that they didn't receive at the time for whatever reason.
Who is eligible for a Plus-Up Payment?
There are just two weeks left for Americans to file their 2020 taxes if they haven't and qualify for a plus-up stimulus payment by the end of the year.
If you are a taxpayer in the USA whose income was lower in 2020 than it was in 2019, then you are eligible to receive what is being referred to as a plus-up payment.
This also applies to anyone who claimed an elderly or disabled dependent when they handed in their taxes in 2020, as well as an elder or disabled relatives or college students who are under the care of individuals.
The deadline to submit your 2020 tax return and therefore become eligible to receive the plus-up payment is December 31, 2021, so it is better to act sooner rather than later.
In order to get the payment before the end of 2021, you should submit that tax return with some time to spare, so that it can be processed and so that the payment can be sent your way.
When will Plus-Up Payments be sent out?
These Plus-Up Payments are set to be distributed up until December 31, 2021. Given that these payments have typically taken a couple of weeks to be processed, it's worth filling your 2020 tax return as soon as possible in order to qualify.
What else do I need to do?
Once you have filed your 2020 tax return, you can sit back and relax.
The IRS will then evaluate whether you are eligible to receive the plus-up payment, as they will look at the difference between your 2019 return and the 2020 version.
It is also possible to check your Plus-Up Payment status by using the IRS' Get My Payment tool. There, you can click the 'Get My Payment' button and follow the relevant steps to enquire about any stimulus check money you might be owed.
Back in July of 2021, the IRS shared they have successfully sent out over 900,000 plus-up payments totaling over $1.6 billion dollars.
If You Found The Information Here Was Useful Please Consider Sharing This Page!