Based off last year's 2017 Filing Season the PATH message lifted at 12:00 am Feb. 16 and everyone returned back to the Still Processing Message. Everybodys Where's My Refund? statuses changed to the Still Processing because the PATH hold came to an end at 11:59 on February 15th. Four hours after the hold was lifted Friday, Feb 17, 2017 there was an update for the majority of early filers with daily accounts with 2/22 Direct Deposit Dates. The majority of early filer weekly accounts that were approved and held under the PATH Hold updated Saturday, Feb. 18, 2017 with Direct Deposit Dates of 2/23. Then the following week the IRS returned to normal processing of daily accounts receiving updates on Wednesday mornings and weekly accounts received updates on Saturday mornings.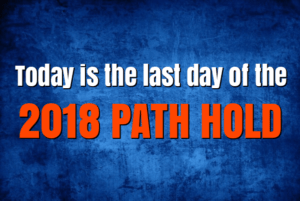 In 2017 the IRS said that the majority of the early filers would see an update by Feb. 18, 2017. It took two batches Friday the 17th and Saturday 18th to push out the large number of returns that were approved and held by the PATH Hold.
I want to share my predictions on how the first set of deposits could roll out.
This year could be the same way the PATH message should update to still processing message tonight Feb. 15th after 11:59 pm. And some could see an update as soon as Friday morning 3:30- 6 am for daily accounts with 2/21 DDD. Then weekly accounts will update Saturday 3:30-6am with 2/22 DDD.
The PATH message this year reads that the majority of early filers held under the PATH hold should see an update by Feb. 17, 2018. So if the IRS follow the same schedule they did in 2017. Thier is a good chance this Friday and Saturday morning is going to be big days for updates.
Transcripts should be updating tonight into Friday and some should start to see 846 Refund issued codes showing up on their transcripts.
If You Found The Information Here Was Useful Please Consider Sharing This Page!