Congratulations, Wednesday, January 24 marks the First day for movement on some taxpayers accounts in the 2018 tax filing season. Many taxpayers woke up this morning with a change to their refund status.
If your refund status updated to this messages this morning. Your tax return has been acknowledged by the IRS.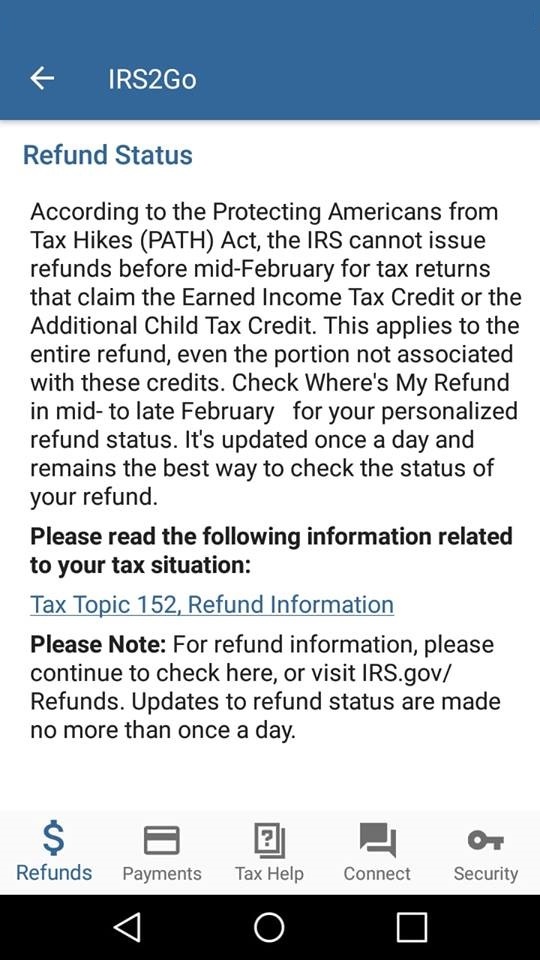 Once your tax return status goes from received to the PATH ACT message all this means is that your taxes are being processed and the computers at the IRS recognized you had either Earned Income Tax Credits or Aditional Child Tax Credit or education credits.
This message doesn't mean you are approved or denied or that you will be receiving a refund on any certain day.
Once Feb 15th arrives your bars will return to the WMR site and will move accordingly. If the IRS needs something from you you'll get an error code on transcripts or a letter in the mail. If they don't need anything then you'll process accordingly and move on to the second Bar meaning approved then the third bar meaning deposited or sent to your bank.
Based on our schedules the First Night for Path Act Direct Deposit Updates will be
Daily Accounts first batch of Direct Deposit Updates will be Wednesday, February 14th with Saturday, February 17 Direct Deposit Dates.
Weekly Accounts first batch of Direct Deposits will be Saturday, February 17th with Wednesday, February 21 Direct Deposit Dates.
Remember: Not everyone will see an update in the first batch. These are just the days to mark on your calendar if you are waiting for a refund.
We see a lot of people jumped the gun yesterday and start order transcripts to try to figure out what is going on with their tax return. The IRS does not even start to process tax returns until January 29th. If you see some movement with your account prior to then just chill out and be happy they may be getting things done quicker this year then in the past.
When it comes to ordering transcripts if you ordered them already. They will arrive at your mailbox blank or with all zero's. You need to wait until at least 5-7 days after January 29th before you try to view them online.  You can view our IRS update calenders here and they will show you what days transcripts update for taxpayers. Ordering transcripts by mail will do nothing at all in helping you figure anything out with your tax return. By the time the transcripts arrive at your mailbox multiple updates could have occurred on your account. When you order transcripts by mail you are wasting paper and IRS employees time that they could be processing tax returns. The only way transcripts will help you along the way is if you can create a secure access to the IRS "Get Transcript" website and view your account transcripts online with real-time updates. If you do not have the resources needed to create the online account and view them online PLEASE JUST DON'T ORDER THEM.
Share your updates here! If you were not lucky enough to make it into the first batch of returns that seen updates last night. Don't worry weekly accounts will update this Saturday during the A.M. Hours.
If You Found The Information Here Was Useful Please Consider Sharing This Page!