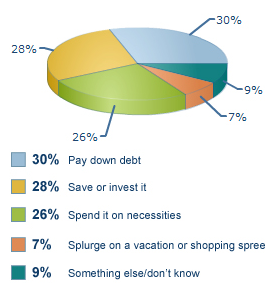 Overall, 30 percent of Americans intend to pay down debt with their tax refund, 28 percent say they will save or invest it, and 26 percent have earmarked those funds for necessities such as food or utility bills.
"I think it is a sign of how people feel about the economy and where we are going. There is still a lot of uncertainty out there," says Bryan Pukoff, CPA, and principal at Rehmann, one of the largest financial services, accounting and consulting firms in the Midwest.
"That is different than what we have seen in the past. People generally take a portion of their refund and spend it on something for themselves — a vacation or a new car. The percentages actually surprise me," he says.
Greg McBride, a senior financial analyst, points out that regardless of economic conditions, putting the money directly into an IRA would be a smart move from a financial planning point of view.
If You Found The Information Here Was Useful Please Consider Sharing This Page!