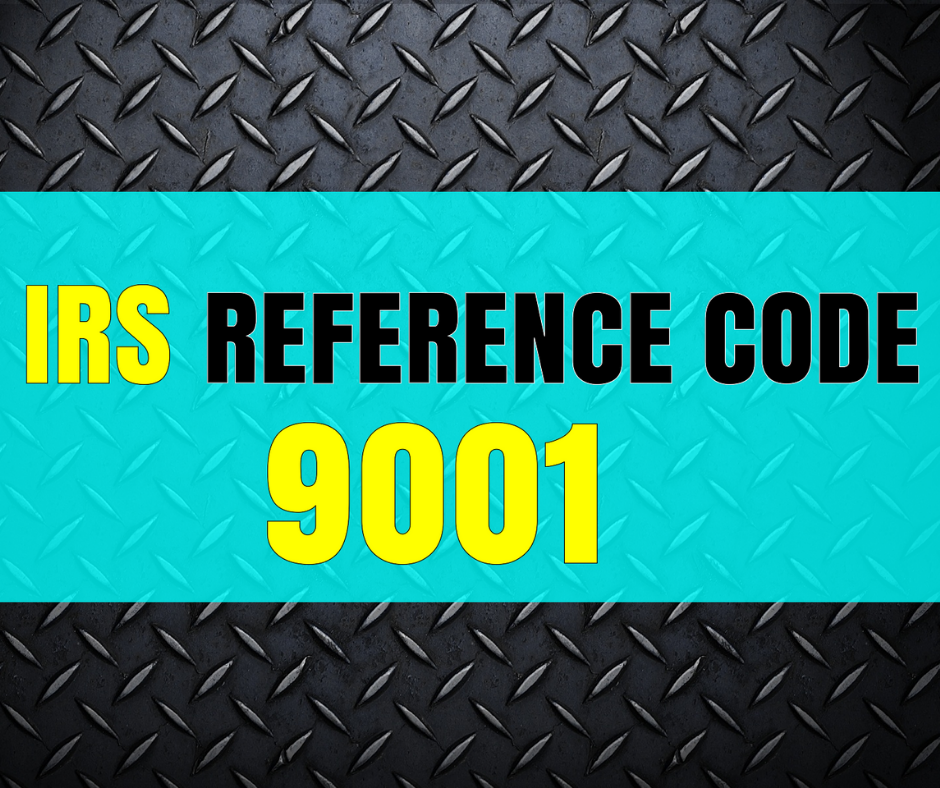 IRS Reference Code 9001
IRS Reference Code 9001: "Taxpayer accessed Refund Status using a secondary TIN. Refund Status could not be returned. Get a Primary TIN Analyze account and follow appropriate IRM."
The IRS has an entire manual dedicated to errors and problems that they encounter during the course of doing business. Some of these codes are directly related to your tax return, and some are related to something else. For the most part, codes less than 2000 are related directly to your return. Anything higher (like code 9001), it's related to something totally different – so right there, stop freaking out.
What does IRS Code 9001 Really Mean?
From the IRS Manual, it means "the refund status could not be returned," usually because it is not processed into the system yet or an incorrect Social Security or TIN was used.
The actual code tells you exactly what it means – you filed a tax return that had multiple Social Security numbers attached to it. Typically, this is a husband and wife, but it could also include children as well (you never know, adult dependents maybe checking the status of the refund). When you file your tax return, you have to make sure you are entering the social security number of the primary taxpayer on the current tax return, and the spouse or children all are secondary.
If you log in to Where's My Refund? or on the IRS 2GoApp and try to use the secondary Social Security number, you're going to get this 9001 error message.
IRS Reference Code 9001 in plain English Translation
."Taxpayer accessed Refund Status using a secondary TIN." Plain English translation: Someone tried to login into your account on WMR using the wrong social security number.
"Refund Status could not be returned." Plain English translation: The IRS will not reveal your refund status. (Some people panic if they misread this sentence, thinking it says your refund could not be returned: this is not the case.)
"Get a Primary TIN Analyze account and follow appropriate IRM." Plain English translation: Use the right social security number! ("Follow the appropriate IRM" means to follow the instructions using the WMR Internal Revenue Manual (IRM) instead of a different IRM.)
Make sure you used the primary TIN
This reference code 9001 can be generated if you enter the wrong Taxpayer Identification Number (TIN). As your TINs can include your:
Social Security Number (SSN)
Employer Identification Number (EIN)
Individual Taxpayer Identification Number (ITIN)
Taxpayer Identification Number for Pending US Adoptions (ATIN)
Preparer Taxpayer Identification Number (PTIN)
The primary TIN used on the tax return must be used while checking your refund status on the Where's My Refund portal or IRS2GOApp. Using the primary TIN will help ensure that the IRS can match your tax return to the right person.
What the IRS says about code 9001
The IRS established the "Where's My Refund?" portal to allow taxpayers to check the status of their federal income tax return and refund. To access the portal you need three pieces of information: your Social Security Number or Taxpayer Identification Number (TIN), your filing status, and the amount of the refund that you are expecting. This refund amount should be listed in whole dollars and must match the amount listed on your tax forms exactly.
Having code 9001 is not an audit, or tax return delay code and it shouldn't concern taxpayers. It just means there was an attempt to access the tax return or refund results using the wrong Social Security number or TIN.
Concerns About Identity Theft
We've seen a lot of people concerned about identity theft this year, and this is a possible flag for it. While the code itself is not an audit flag, we have heard about cases of people trying the wrong Social Security number too many times, and their return was put on hold until their identity could be verified.
So, before you go to WMR and start typing in the secondary Social Security number multiple times, stop, think, pull out a copy of your tax return, and do it the right way. Otherwise, you could see your tax refund delayed.
What You Need To Do
If you keep seeing IRS Code 9001 when you log in, in most cases you need to do nothing. Most of the time the Reference Code 9001 will disappear once the correct social or tax identification number is used.
If the IRS has a problem with your tax return, they will send you a letter describing the issue and the next steps. In most situations, you cannot resolve it over the phone with the IRS because of potential identity theft issues.
If you continue seeing this code for more than 2 weeks and you are 100% positive that you are using the primary SSN, then you should consider calling the IRS or going into your local office. Not being able to access your tax information with the correct primary Social Security Number or TIN could be a sign of potential identity theft issues.
If you have seen IRS Reference Code 9001 while checking your refund status, please feel free to drop a comment below and let us know what you found out! You can also check out our Tax Refund Forums for more information on IRS Reference Codes.
If You Found The Information Here Was Useful Please Consider Sharing This Page!