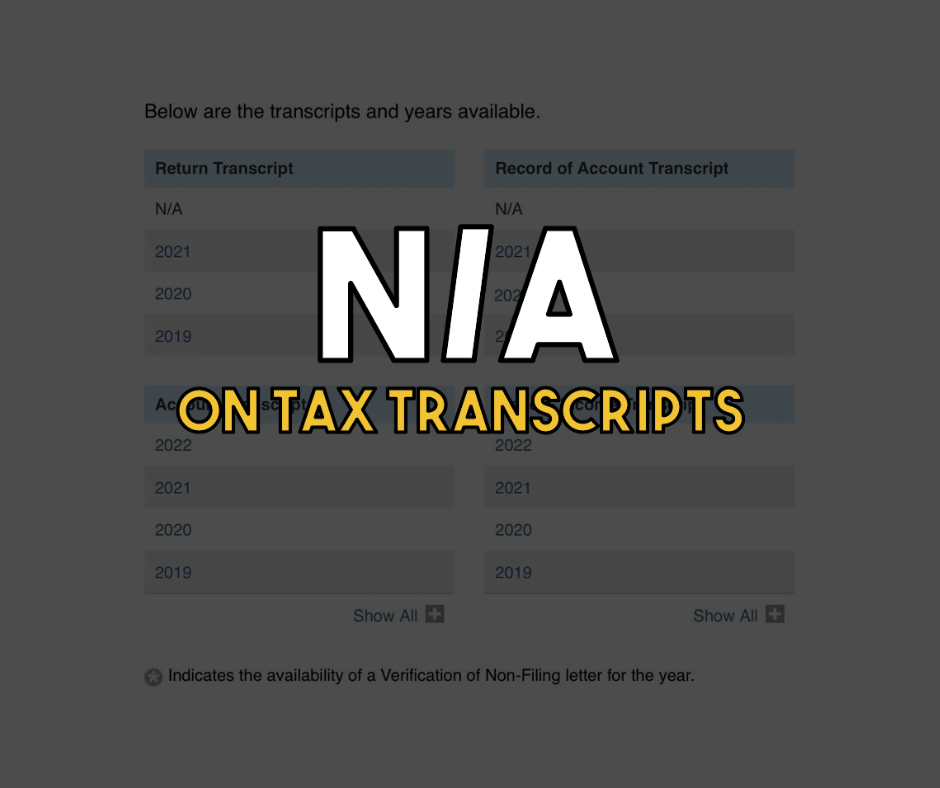 What does N/A on my tax transcripts mean?
When checking your tax transcripts and if you see a N/A in place of the most recently filed tax transcripts. The N/A is letting you know that your transcripts for the current filed tax year are Not Available yet.
If you are seeing a N/A when checking Tax Transcripts
The IRS most likely has your tax return it just has not been posted to the system yet. Once the tax return is in the processing stage you should see the N/A update to the current filing year.
When will the N/A on my transcript be updated?
There is no set date for when your N/A might update. Once the tax return is in the system for processing your N/A status will update with the current tax year's transcript. The tax transcripts follow your tax return from receipt to completion. Tax Transcripts document all the transactions that occurred while processing your tax return. It will tell you when your tax return was received and if your refund has been approved or sent.
Get my Transcripts System can not find my information?
This is normal and happens to many taxpayers each year. The IRS has accepted your tax return but they have not started processing the tax return and got it in the system yet. Keep checking the online transcripts portal each week, once they start processing your tax return you should be able to see them online. Usually takes 7-10 days from filing to show on the IRS transcript site.
If you continue to have problems, contact the IRS help desk at 1-800-876-1715 (Monday through Friday) 8 am – 8 pm (Eastern Standard Time).
Why is my Transcript blank or showing zeros?
Your tax return has been accepted but has not begun the processing stage and entered into the master file yet. Your tax return has not entered the IRS master file yet. Check it again online each week to see if your tax return gets into the system.
Tax records are a useful tool for tracking the progress of your tax return. Remember that being able to see your transcript does not always mean that your tax return has been processed. You must wait for the refund issued code 846 to appear on your transcript. Transaction codes can be added to transcripts at any time, including after tax season.
If You Found The Information Here Was Useful Please Consider Sharing This Page!