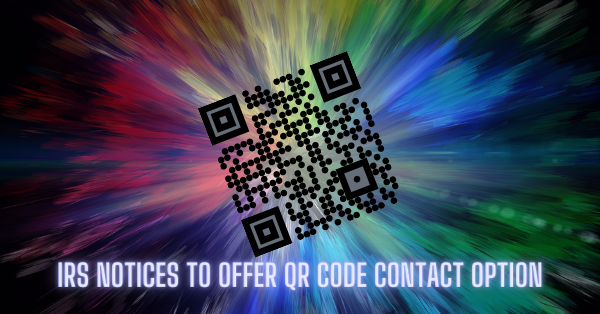 In the fall of 2020, the Internal Revenue Service announced that it was adding QR, or Quick Response, codes to some of the notices it sends taxpayers. Specifically, the codes are going on tax due notices.
The goal, says the IRS, is to make it easier for taxpayers to deal with the notices. Recipients of the QR-coded correspondence can use their smartphones to scan it and go directly to the IRS website. From there, they can access their taxpayer account, set up a payment plan, or contact the Taxpayer Advocate Service.
Basically, the digital option eliminates the tax middleman or woman. Filers don't have to call or interact with IRS personnel in order to resolve their issues.
The hope is that the QR electronic contact option will alleviate some of the tax assistance troubles, for individuals seeking help or information, as well as for IRS personnel.
Now the IRS has announced which collection notices sport the electronic emblems. They are:
CP14, Balance Due
ACS Letter LT16, Please Call Us About Your Overdue Taxes or Tax Return
CP501, Individual Balance Due, First Notice
CP503, Individual Balance Due, Second Notice
CP504, Final Balance Due Notice, Intent to Levy
ACS Letter LT11, Final Notice and Notice of Intent to Levy and Your Notice of a Right to a Hearing
ACS Letter LT17, Please Take Action on your Balance Due Using our Online Services
ACS Letter LT19, Pay Your Outstanding Tax Returns
These redesigned notices now have simplified language to direct taxpayers to self-help options on the IRS website, according to the agency. The added QR codes will take taxpayers directly to the Online Payment Agreement application or to set up their tax account online.
Darren Guillot, IRS Commissioner of Small Business/Self Employed (SB/SE) Collection, noted in a recent "A Closer Look" column that the agency put the CP Notices, LT17, and LT19 letters into production in January 2021.
The LT11 and LT16 letters are also in production and will be issued to taxpayers with a balance due.
"All of them showed increases in payment compliance, use of self-service tools, and rates of installment agreements being established, as well as reduced cost per case resolution," according to Guillot.
Specifically, the tests of the redesigned notices increased the use of online service channels by more than 70 percent, said, Guillot. The most commonly scanned QR code was the "View Your Tax Account" landing page.
"All of this was accomplished with minimal effect on the volume of incoming phone calls," he added.
That taxpayers took to the QR tests without following up by phone is good news for the IRS. One thing the agency definitely does not need is more incoming calls since phone response has been an area where the IRS traditionally (and consistently) has received low customer satisfaction marks.
The agency also argues that shifting more taxpayers to online assistance is a net positive for taxpayers.
"By emphasizing the availability of self-service channels, we're helping to empower taxpayers to resolve their outstanding tax issues through their preferred channel," he wrote in the IRS online column.
If more taxpayers do use the QR codes, that should help relieve some of the dial-in bottlenecks for those sticking with old-school tax resolution ways.
If You Found The Information Here Was Useful Please Consider Sharing This Page!