What does your Refund Status look like today! 
Have you submitted your Income Tax Return to the IRS to be E-Filed? Now the waiting game begins to see if we get approved for a refund or not. We're gonna show you a little bit of information about how the "Where's My Refund" Refund Status bars work.
Once you File your Income Tax Return whether it be E-Filed or Mailed in on paper. Within 24 hours of the IRS Receiving your return they will update your Refund Status. As long as all your personal Tax data like your Name, Address, Social Security Number, Tax Filing status Matches what is on file they will accept your return.
As long as the IRS Accepts your Income Tax Return this is what you should be seeing at "Where's My Refund" Tool.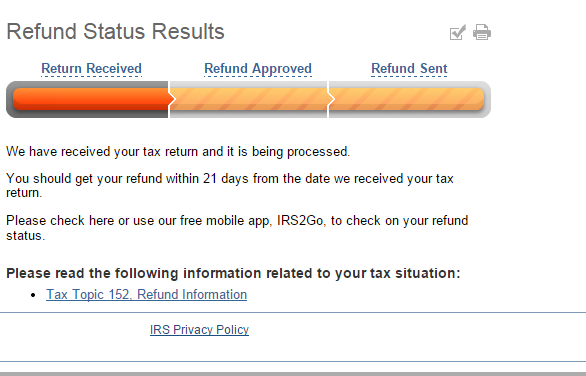 If you check the "Where's My Refund" Tool after you have filed your return and you are seeing this

Don't worry too much they just don't have receipt of receiving your Income Tax Return Yet.
If you visited the Where's My Refund website and seen this message you should give it another day and come back and check again. The IRS says that they only update the WMR tool once daily in the early morning hours. If you come back after a few days and do not see any movement or any bars. Go back and check your e-file tool to make sure your Income Tax Return was accepted.
Once your Income Tax Return has been accepted the next step is to get an approval from the IRS.
There is no given time of how long it will take to get a refund from the Internal Revenue Service.  The IRS states on its website that they issue 9 out of 10 Income Tax Refunds within 21 Days. Every Single person has a different situation. Your friend may get theirs a week before you. This acceptance process is a is based on first in first out system. Your tax returns filing number will determine what order your return is processed. This does not guarantee you a refund you will get a refund if all your information is keyed in correctly.
If your Income Tax Return was approved for a Refund this is what you will see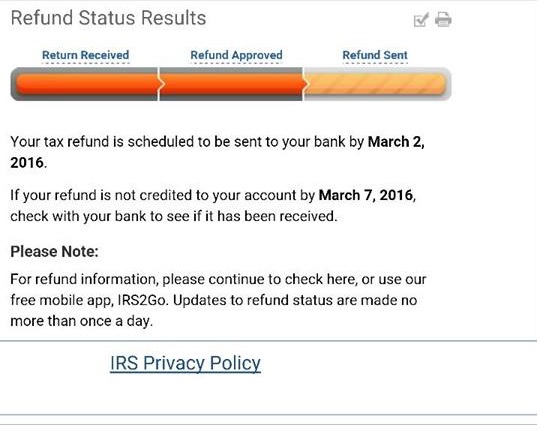 Say that something did not look correct on your Tax Return and you lose your"Where's My Refund" Refund Status Bars.
The WMR Tool Glitches a lot with millions of people on it every minute. If you see your status bars gone the first thing you should do it try to log in using a different web browser (Chrome, Firefox, Explore, Etc.) then the one you first attempted to log in with.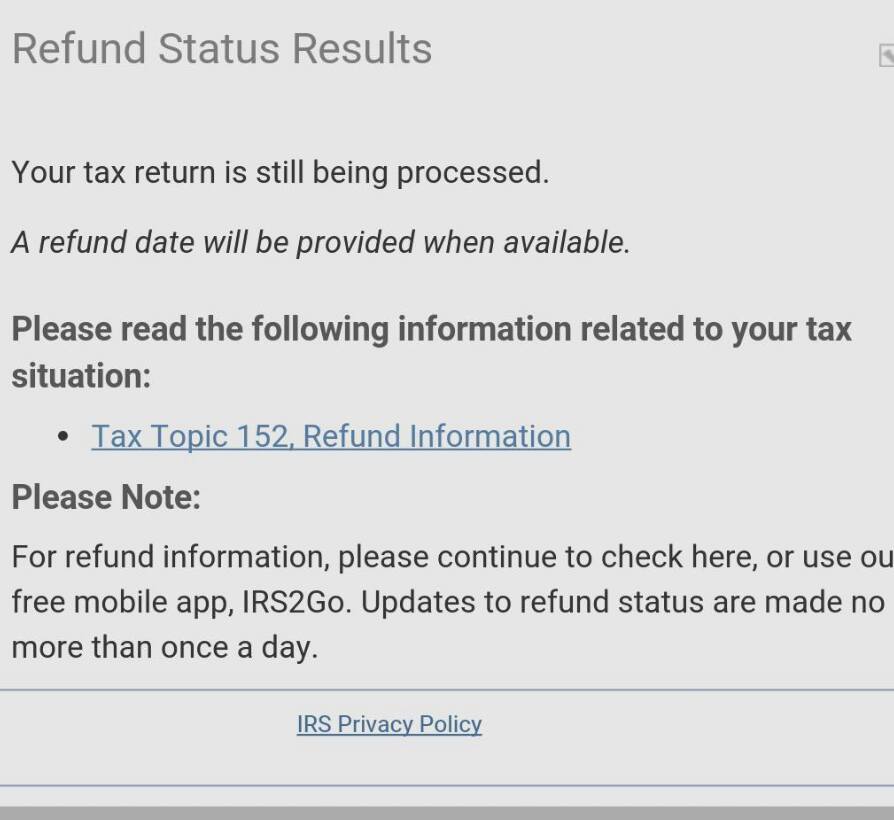 If you see this message your Tax Return is under review. This does not mean you are not getting a refund. This is simply telling you that your Refund got pulled out for a Quality Check. For some reason, the system pulled your Tax Return to be looked at for further review. If this happens to you wait for a few days and you should see your Refund Status Change. If for some reason the Refund Status Bars do not come back you probably made some kind of error and will be receiving a letter from the IRS letting you know what they found and how to correct the problem.
And the Final Step to Claiming your Income Tax Refund is Refund Sent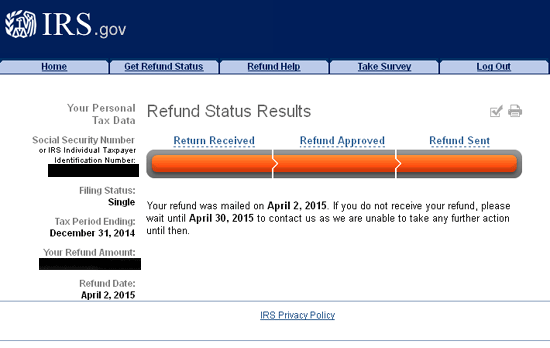 If you get this message you should feel good. Based on experience not very many tax filers ever get to see this message. The "Where's My Refund" Tool never seems to make it past 2 bars before taxpayers are checking their bank for their Income Tax Refund.
We would like to remind you if you have any Income Tax Refund Question to stop by our Community to join in on the discussion ask questions and share your advice.
If You Found The Information Here Was Useful Please Consider Sharing This Page!